Just over a year ago, I found myself volunteering with The Women's March in Chicago. Another woman and I were in charge of directing foot traffic from one of the "L" stops downtown. Basically, I was yelling at arriving protesters to walk up the steps and take a right. As I stood there, though, an uncomfortable feeling was shaking its way up my body.
Where were all the women of color?
A vast majority of those who arrived on the "L" were white women and the men who considered themselves allies. I was taken by surprise each time I did see any women of color arrive. This was the start of an internal dialogue for me.
Knowing 53% of white women voted for our President, I had to ask myself if what I was seeing downstairs on the "L" matched what was on street level. Lo and behold, it was. I was met with a sea of white women, armed with smiles, forging ahead of the crowds to get their stomps and fist pumps on. While it was an overwhelming rush getting caught up with what was happening on the streets, I kept finding myself distracted, looking for a trace of any woman of color outside of myself and a girl friend I was with.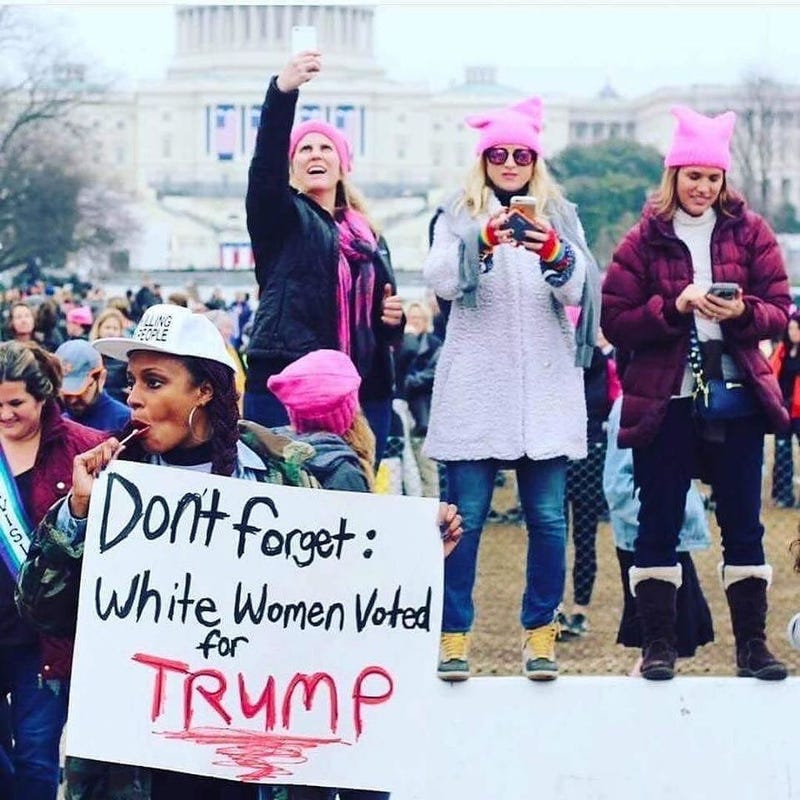 I chose not to attend the March this past Saturday because of my experience at the last March. Ladies, I doubt I have to ask why we attended that event. I guess I am more so asking what our intention was and is? It is not lost on me that there are some pissed white women out there — I know them well — but for those like the women pictured above, was it a day to grab a good selfie in a fuzzy pink hat? Someone help me with this one.
My fear is in our motivations. We have a lot going for us right now. There's a real movement happening that is calling us to see an even playing field for, not just our individual lives, but for all. Where equality is across the board, no matter race, ethnicity, sexual orientation or religion. The President of Planned Parenthood, Cecile Richards, nailed it this weekend when she said:
"And from Virginia to Alabama and to last week in Wisconsin, women have beaten the odds to elect our own to office. … Women of color, transgender women, rural and urban women. These victories were led and made possible by women of color."
In my own state of selfish ambition, rarely do I recognize this fact. Women of color have long been at the front of the protesting and voting lines. This is nothing new. Neither you nor I — women who identify with white culture — can take credit for the outrage. We have merely dressed a longstanding issue in fuzzy pink hats and taken time to decorate a poster with some clever and colorful language. Not to mention, white savior complex is an easy route to take here.
My hope is that we pocket this fact and let it serve as our reminder when we protest. Our legitimate motivations may be fueled by the innumerable inequalities we are met with as women. At the same time, though, if we choose to forget that protesting for equality means equality for all, and in every regard, then we are only fools filling streets.